BARB's HELLO.
The Dancing Spirit is Strathmores Whose Who 2012 Dance Educator of Year
SHORT - - Since the age 4 my dance models were ballerinas & Isadora Duncan. After recieving my BFA,Dance from SUNY I performed with ensembles,ran a dance company, taught all ages Ballet & Modern Dance while raising my family with Mark and our kids - Adam, Jaeke and izabelle.When I discovered Belly Dance I fell in love. I have been a Belly Dancer for 12 yrs. I love the creative freedom of Belly Dance. I always urge my students to experiment with steps,styles,music & costumes, blending all dance movment forms with Mid East flair for a fusion evolution.

The first Dancing Spirit Studio was at Tiverton Four Corners. I taught children, adults, Creative Movement, Pilates and Roth. Blanca, a good dance friend said " Belly Dance grabs you" and it's true. If you are ready, you want to learn as much,as fast as you can, but as you learn, you open many unknown, undiscovered fun doors which is the journey. A special aspect of Belly Dance is that it is very feminine but earthy at the same time. It also is educational in many fun and surprising ways.

There are many styles of Middle Eastern Belly Dance. Celebrations in the Middle East include music and dance with everyone. Belly Dance is an expression of joy and celebration. The Dancing Spirit style is a combination or fusion of styles I have studied and mix together. I love to fuse this and that to see what I and my students can create that is new and different but I also love tradition and classical styles.
June 2011 The Dancing Spirit Studio became the only RI Belly Dance Arts studio. One of my favorite mottos is, "If you dance for five minutes a day you will be happier, healthier & friendlier." Don't you agree? In the first intro classes you will learn the circular movements, counting ,steps, posture & soft knees. You can feel awkward at first but like everything, with practice, it get's easier and soon will feel very natural. After a 6 week session you can begin to feel how everything goes together. It's fun to practice everywhere and anywhere. At the grocery store, watching your kids games or doing the dishes. Controlling and isolating muscles is a fun Belly Dance practice,the other is learning the rhythms which can enhance you listening and dancing experience,
Belly Dance is good for stress relief, coordination, increasing energy, toning muscles , improving strength, posture and makes you feel pretty. Some students say they stand and sit up straighter as a result of taking a Belly Dance class. I focus on posture alot in every class. Classes can and do begin all the time as new people find the studio. Come to a studio show to see the dance performed which is very different than learning in a class. Each show is very different. I love encouraging as much creativity as possible. Belly Dance for beginners thru advanced students is taught in a supportive ,non competitive, side by side atmosphere. New students learn basics, next to more experienced dancers improving their skills. I believe all dancers should study the music and movement vocabulary to expand their dance expression.Intro classes and workshops for ballet and modern dancers are available. School groups from kindergarten through college are welcome to schedule lessons.All classes are an hour and a half
Children's 3 - 8 belly dance too but it is more like creative movement .Classes are one hour. Children learn rhythms, poses , graceful steps, dance with small Persian veils, costumes and skirts. ................. Belly Dance classes are Monday, friday mornings and Mon, Tues, Wed,thurs evenings ................. Barbodies - Dancers Pilates are Tuesday and Thursday evenings.
Veil is danced with three yards of silk. The drama of veil includes tucks, drops, circles, turns, lifts and swirls.
Parties and fund raisers are more FUN with Belly Dance.Everyone loves to watch and everyone can learn simple steps. Kids' parties, birthdays, graduations, office parties , all celebrations are more fun with a Belly Dance demo, show followed by a group dance. Your party will be more fun with dance.
Belly Dance is circles, undulations, figure eights, snake like moves of arms, hands, shoulders, torso, abdomen, hips. In the Middle East dancers and musicians reflect each others' accented beats and work together. That relationship is wonderful and special to Belly Dance. Drums accompany the dance stressing certain beats as the dancers move in time to the tempo. Until you try it you don't know what you are missing.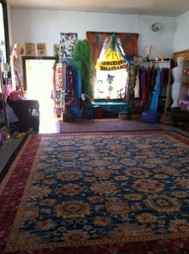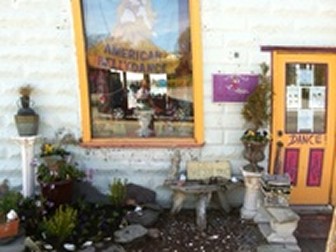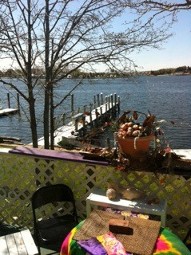 Dance Article - Belly Dance Class Observed
I found myself in an unlikely situation when my grandmother asked me if I would like to accompany her to a Belly Dance class. To anyone on the street, hearing this from a white American female in her mid 60's would have to look twice, unless they had met my free spirited family. Though I did have to decline participating because of minor surgery I had the honor of sitting in on one of her classes. Upon my arrival at The Dancing Spirit Studio my eyes were bombarded with an array of colors and beautiful paintings. Gorgeous multi colored rugs, long flowing veils and bangled hip scarves for students to decorate themselves with added color and definition to the room. This flare had a clear origin. The teacher, introduced as Barbara, appeared in vibrantly colored dance costume , flowers adorning her hair. When asked if I would be able to watch she responded, "If you can walk, you can dance!" She said " No one is ever allowed to watch class because if you don't dance you can't feel the movements". She put a hip scarf in my lap, a veil in my arms and encouraged me to participate with my arms whenever I could. The dancing was brilliant and is clearly misunderstood by the majority of Americans who seem to believe that Belly Dance is straight from the brothels of India. In this case, ignorance is not bliss. Belly Dance is clearly a wonderful dance form. This type of Ethnic dance requires a fine technique that accentuates the subtleties of the human body and is also a great way to work out. Belly Dance is not about thrusts and jives like Swing and Tango but is about moving the body in slow subtle motions when blended together can be an amazing form of art & self expression. Belly Dance vocabulary is known for specific movements such as an isolated hip drop or a shimmy. Belly Dancers are recognized by proud posture, flair, a certain larger than life attitude which is required to create a dramatic vision .The contrast of graceful rhythmical subtlety and control combined with the earthiness in their step creates quite a show. With Barb's enthusiasm and instruction the class of women, different ages, not spring chickens, accept for one, were full throttle dancing and full of life. During class it was mentioned that students are dancing from aged 10 up thru 60 something. Everyone dances together and students are traveling to the studio from all over RI, Mass. and even from Connecticut Twinkle-toed Americans struggle with strong, rhythmical foot stomping combined with soft knees which makes the dance graceful and the proud posture that it takes to feel the ground with every step expressing interpretations of the world music. Belly Dance is one of the finer expressions of what nature is: real and yet subtle. With each stomp of the foot the observer can see as well as hear the realness of the earth beneath the dancers feet. With each flip of the hand or twirl of the scarf the observer can see gracefulness and beauty. With each small but strong movement the observer begins to understand the more subtle things—the curves of a flowers petals or the feel of a slight breeze in the summer. To truly understand the feel and beat of the art of Belly Dance one must get up and try it. Through the dance become one with nature for a brief earth thumping totally alive moments. Where better to try it than with Barb at the Dancing Spirit Studio. "If you can walk, you can dance!"
Dani Matern
QUOTE "The great thing about my life is that everything I've done is a result of what I was when I was 12 or 13." - Ray Bradbury.
BARB"S REACTION" I think my dance life began in,1st creative dance class, at 4,NYC,Jean Erdman studio.Teacher, Penny( passed away,I tried to find her to ask about practices when I began teaching kids) gave us paper, pencil,said " draw design,dance it". I drew a complex design & was teary because the map was too hard to dance. My life dance map. By 13, hormones raging,I grew up fast, thinking too much about boys.I wanted to quit ballet then. It was hard and I wasn't the ballet sylphe I dreamed of being. Dad took me on a life walk and said," You want to be a quitter? a nothing? You want to be like everyone else?". Fear of failure and of being nothing kept me in classes but it took a life time to become a true dancing spirit. At 16,I attended The Washington School of Ballet. Famed Mary Day said in rehearsal for the end of year show,"Barb you will never be a dancer, go sailing".Her words haunted me for years.Think of what drives you? What inspires you? A couple of sentences? Do you want to be like everyone or do you want to be your unique self?
F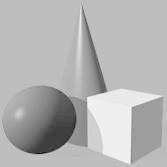 amily
Adam, Mark, Jaeke, Barbara, Izabelle
Mark S Donahue - Solar Surveys - http://www.terresstrial solarsurveys.com
Adam S Donahue - Thule - http://www.thule.com
Jaeke M Donahue - Benjamin's Raw Bar - http://www.benjamins.com
Izabelle VD Donahue - Sassy Cakes - sassycake.blogspot.com