EVENTS,WORK SHOPS, SHOWS, FESTIVALS, IT WORKS

Sat. May 10!!! Join Shimmy Mob 4 http://www.shimmymob.com Sign up for the team in Tiverton at The Dancing Spirit Studio!

Mid July - Four Corners Arts Festival on the great lawn

Early Sept SOAH - Singing Out Against Hunger, Evelyn's Drive in on the pond

Barb Dance talk on Spot Lite radio http://spotliteradio.com/?p=10846

The Dancing Spirt Studio Party show,Dec 28 2013 from Barbara Derecktor Donahue on Vimeo.

Four SM from Barbara Derecktor Donahue on Vimeo.

58 rainbow dance seconds from Barbara Derecktor Donahue on Vimeo.
Belly Dance is fantasy, technical, classical, traditional, improvisation, repetitive, fun, hard work, challenging, interpretive,
rhythmical, earthy, passionate, educational, social, colorful, expressive , cultural, ageless, celebrational, global grace
Oriental Belly Dance Training for classical dancers
Ballet, Jazz, Modern Dancers. Technique, veil, ,rhythms, history, resources, handouts 1 1/2 hrs.
Fee $150
Contact Barbara Barb@thedancingspirit.com for class at your studio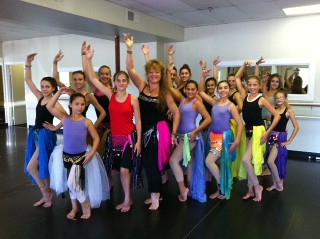 Recommendation -
"Barbara came to Extensions School of Dance to work with our Dance Intensive Students.She is a talented, creative instructor who presented our students with a memorable and detail-filled class. Belly Dance is a new genre for our students. Barbara led them through several dances,explained the movements with detail. Our classically trained dancers were able to "perform". Barbara brought notes,background information,hip scarves & veils and a drum accompanist . Barbara's Belly Dance class was a highlight of our camp week."
11/2 hr technique classes M.- S.
Students learn basics & are encouraged to explore music & costumes to create their own solos and duets .
Is Belly Dance a Work out ?....... READ HERE http://www.hipmix.net/fitness-article.php?pid=52