SATURDAY JAN 31, 11 - 12:30 .....$15 drop in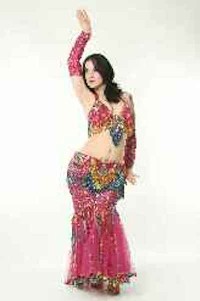 From Tanya - My sister Lee Ann is a breast cancer survivor and she went thry years of fighting.
Having a double mastectomy and breat reconstruction and more surgeries to come. I want her to feel like the
sexy beautiful woman that she is. For all the woman out there that want to get in touch with their inner self
and bring out their sexy side come join this class with us.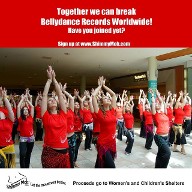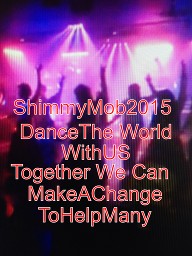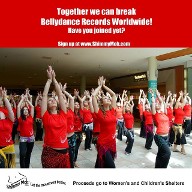 THE DANCING SPIRIT STUDIO
SHIMMY MOB SHOW 2015
THE SANDY WOODS CENTER FOR THE ARTS
FAMILY TICKETS FOR ADULTS, KIDS, TABLES FOR 10
DONATION TO THE WOMEN'S RESOURCE CENTER
ON EVENTBRITE SEE BELOW
SHIMMY MOB FB PAGE
https://www.facebook.com/events/1533644186912670/?pnref=stor
Shimmy Mob raises awareness and funds for Womens and Children's Shelters.
Last year 2000 dancers in 5 continents performed one choreography together.
The Dancing Spirit choreography is proudly part part of Shimmy Mob this year.
We are listed on the SM site
under
USA, Tiverton. Dancers of any style are welcome to join
our team.
Dance with sisters,
friends.
Children aged 7 and up can dance with
their Mom's.
TDSStudio SM 2015 is
donating funds
to
CLASS SCHEDULE
To sign up for classes please email Barb Barb@thedancingspirit.com.
Unless you have either emailed me or called please do not drop in.
If can not attend class please let me know.
Thankyou
MONDAY
5 - 6:30
Pilates, weights, dance, yoga, mix $120/ 8 classes
TUESDAY
6:30 - 8
Belly Dance Basics & One Shimmy Mob Choreography $100/ 8 classes
WEDNESDAY
Four Shimmy Mob Dances $100/8 classes
THURSDAY
6:30 - 8
Belly Dance Basics & One Shimmy Mob Choreography $100/8 classes
SATURDAY
11 - 12:30
Happy Belly Dance for Everyone $15 drop in, $50/ 4 classes - $100/ 8 classes
Dance classes, Show tickets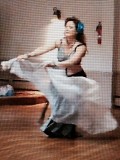 Barbara, known as The Dancing Spirit of RI lives in Tiverton where she owns and runs The
Dancing Spirit Studio. Barbara began dancing at age 4. She choreographed her first
group dance for twenty kids at
age 16. She
recieved her BFA
in Dance from SUNY Purchase.
After college Barb was a
modern dancer with Grethe Holby ,Takako Asakawa
Dance Co &
Dibble Dance while studying Ballet
with Finis Jhung.In Colorado with The Nancy Spanier Dance Company.
Barbara ran The RI Tanagra Movement Theatre Company for 5 yrs with Michelle Bach Coulibaly,
Dance Prof. at Brown Univ.
Barbara has been a Belly Dance Artistfor 14 years.
She has studied with many of the best Middle Eastern Belly Dance teacher, performers in the world.
Her teaching and performance style combines all dance forms
She performs around The Sakonnet, Newport County area and performs in NYC shows produced
by Morocco, Dalia Carella and Anahid Sofian.
She studied in Istanbul ,Turkey which gave her a
much broader view of the dance.
She performed at The Music and Dance Camp in upstate NY ,a weekend with Sema Yildz ( Turkish),
Lee Ali ( Greek) ,Nourhan Sharif ( Egyptian ) &Tayar ( Turkish)
She taught and performed Belly Dance in Bali and in Sayulita, Mexico at Haramara.
Two years ago she attended the
second NYC Theatrical Belly Dance Convention with so many amazing teachers
Barbara brought International Shimmy Mob to RI in 2011.That year celebrated National Dance Week,
World Belly Dance Day.& International Shimmy Mob.
May 9, 2015 is her teams 5th Shimmy Mob which includes Barbara's choreography.
Read Barb's Shimmy Mob Story on DanseTrack
Barbara has been performing solo and with groups for SOAH ( Singing out against Hunger) for
13 years, at
Tiverton Four Corners Arts Festival for 18 plus yrs.
TDSS Tanagra Troupe danced for the
First
Newport Rocks Series at Fort Adams, Summer 2014
Barb Says
I never imagined I would become a Belly Dancer. When I took my first class I was surprised
. I never knew anything about the dance form or the complex world history before.
I have said many times it
is the gift tht keeps on giving.
Shimmy
Mob passion
the world over in one example of how Belly Dance can change lives
in a very positive ways.
Belly Dance can grab you. It grabbed me.
It is wonderful to study as
many
dance
forms as possible. Learning the technique, skirt work, veil grace,
the
rhythms, to play finger cymbals and the earthy feeling can add much expression to a dancers repetoire.
Belly Dance is classical, traditional
folk dance and fusion
which blends and
encourages
a dancers creativity.
I love watching
students as they
learn and grow in so many wonderful ways.
Belly Dance is a fun dance for families of all ages to dance together.
During a recent house party the ladies,girls, boys and men were all dancing a circle together in a very cozy living room.
It was a very special coming together for their family.
A few
birthdays
on the studio magic carpet
have been
"the best,most fun
birthday I ever had ".
Everyone can dance.
I love to get everyone up on the dance floor together .
The Dancing Spirit IMovie... with you, Thankyou ox from Barbara Derecktor Donahue on Vimeo.
Dancing on Main Rd, in the woods,in a show,Shimmy Mob, SOAH,Tiverton 4 Corners Arts Fest,
The Meeting House,RI,NYC,Colorado, Hawaii,Turkey,Egypt,Florida,Mexico,Bali, Mass,.
Dance like there is no tomorrow, your dream, my dream.In the audience,on stage,your costume,
your music, your show I was in.I was inspired by YOU.You were inspired by me. It was your birthday.
You videod everything.
I taught you.I learned from teaching you.
You are the wind beneath my wings…
When I dance I am closest to God - 14 years in the making
Thank you , Love Barbara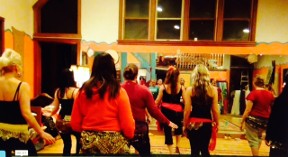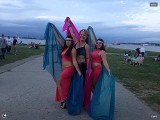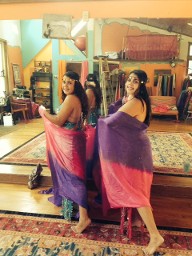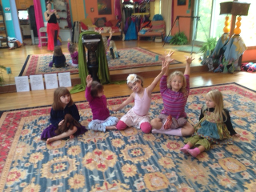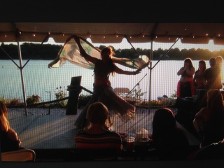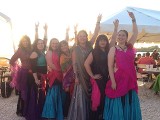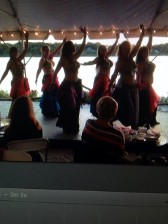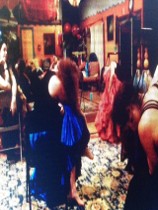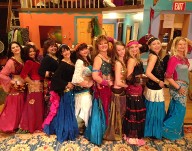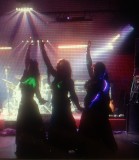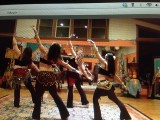 Creative Dance
Directions
Off main rd, across from The Black Goose Cafe - over bridge,
9th driveway on RIGHT.
Park in front,
Studio - left in back of house,
Follow the purple sign
PRIVATE LESSONS

11/2 hr $50.00 with notes & cd

* Please text or call if you can't come to class.
If a class card is purchased for a SEASON and the card is not used during the SEASON, a new card must be purchased.




If a card expires students are charged the single class rate of $15.00
The studio is located near The Black Goose Cafe, Coastal Roasters Coffee Shop , the town beach and Tiverton Four Corners .

Newport is a 1/2 hr on one side and Providence is a 1/2 hr on the other .

FIRST INTRO CLASSES

In the intro classes

students learn circular movements, counting ,steps, posture & soft knees.

The dance feels awkward at first but like everything, with practice, it get's easier and soon feels natural. After a year or so students begin to feel how everything goes together.

It's fun to practice everywhere and anywhere.

At the grocery store, watching your kids games or doing the dishes.

Controlling and isolating muscles is a fun Belly Dance practice,the other is learning the rhythms which can enhance you listening and dancing experience,

Belly Dance is good for stress relief, coordination, increasing energy, toning muscles , improving strength, posture and makes you feel pretty.

Some students say they stand and sit up straighter as a result of taking a Belly Dance class. I focus on posture alot in every class.

Belly Dance for beginners thru advanced students is taught in a supportive ,non competitive, side by side atmosphere. New students learn basics, next to more experienced dancers improving their skills.

I believe all dancers should study the music and movement vocabulary to expand their dance expression.

Intro classes and workshops for ballet and modern dancers are available.

All classes are an hour and a half.

Children 3 - 8 belly dance too but it is more like creative movement

.Children learn rhythms, poses , graceful steps, dance with small Persian veils, costumes and skirts.

Veil is danced with three yards of silk.

The drama of veil includes tucks, drops, circles, turns, lifts and swirls.

Belly Dance is circles, undulations, figure eights, snake like moves of arms, hands, shoulders, torso, abdomen, hips.

Belly Dancers and musicians reflect each others' accented beats and work together.

That relationship is wonderful and special to Belly Dance.

Drums accompany the dance stressing certain beats as the dancers move in time to the tempo.




Please fill the form to join a class or to ask questions ox
http://www.hipmix.net/fitness-article.php?pid=52