CLASSES & EVENTS - UPDATED MAY 16th,2013
MONDAY 9:30 - 11, Belly Dance FIT - on going
MONDAY NEW - 6 - 7:30 STARTS 4/ 29 - June 3 Beginning Belly Dance $ 15 drop in $80 for 6 weeks
WEDNESDAY 4:30 - 6 Belly Dance

THURSDAY - Bodacious Performing Ensemble 7:30 - 9:30 ......Must request to join this group class
FRIDAY 9:30 - 11 Belly Dance Fit - on going
SATURDAY 10:30 - 12 Mom/ Teens Belly Dance
SPECIAL
Check in to 10 classes on yelp, four square, FB & you can schedule a FREE dance class to share the dance.
Fun pictures on the dock after class with flying veils
......................................................................
The Shimmy Mob Dream Team 2013 was 11 dancers with 8 yr old Cooper who danced Tiverton, Westport, Newport, Middletown, Portsmouth, Fall River on the road, a porch, 2 grcery stores inside and out, on the wharf, on a sculpture, in a fitness center, in a bar, for a hafla and in a lounge under lights. We raised $446.00 for Heather Abbott. It was amazing.
I am very proud of my whole team!!!!!! Yay!!!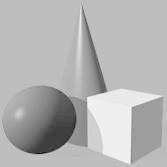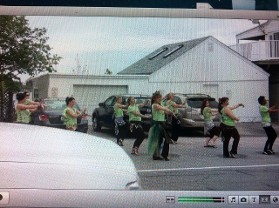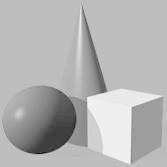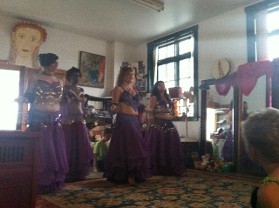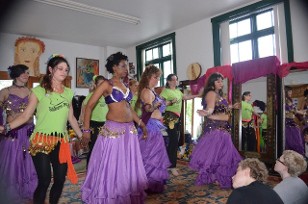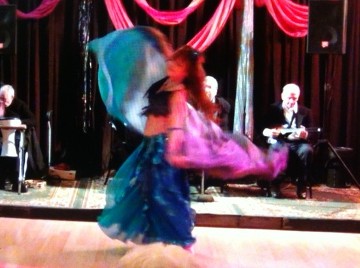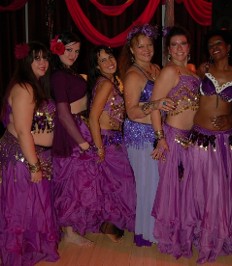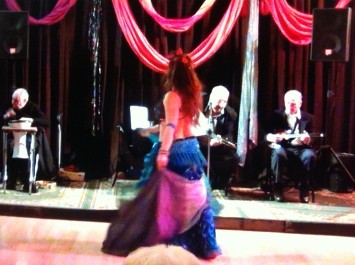 Bodacious Ensemble L to R Kristen, Pam, Melonie, Barb, Mel, Janell
WATCH
Tapestry Belly Dance Show Weekend http://vimeo.com/58426497
2012 SOAH SINGING OUT AGAINST HUNGER - https://vimeo.com/49658504
The Dancing Spirit Bodacious Ensemble - Thrones Inspired Show https://vimeo.com/60397152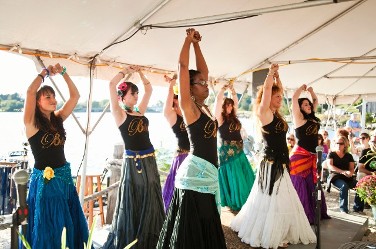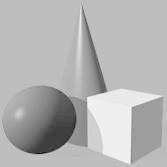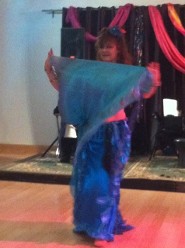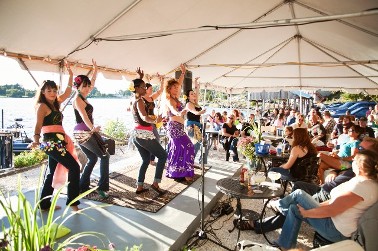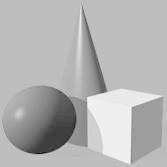 11/2 hr technique classes M.- S. Strathmore's Whose Who 2012 Dance Professional.
Students learn basics & are encouraged to explore music & costumes to create their own solos and duet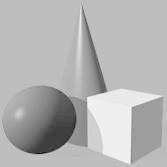 s .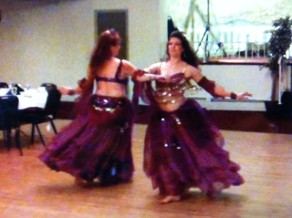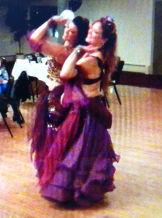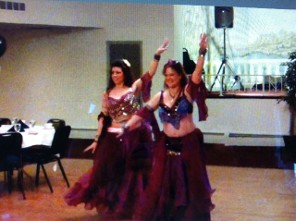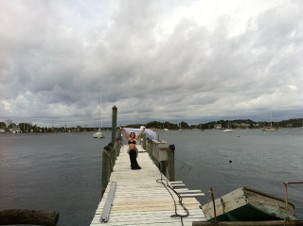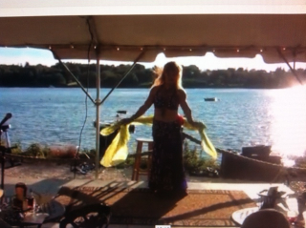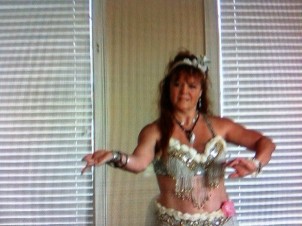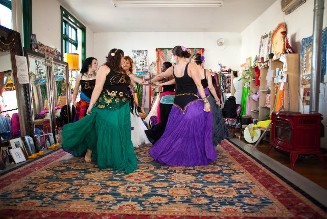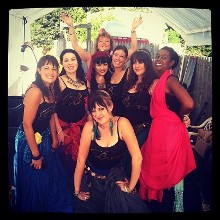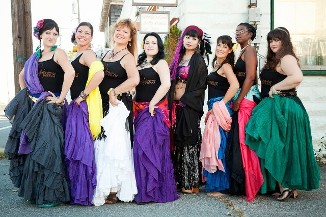 My passion is to teach ,share, perform and to encourage student creativity,fusing dance,music forms thru performance & fundraising.I am part of the diverse RI ME Oriental Belly Dance community. This is the Studio's 7th yr.,currently only Tapestry Belly Dance Arts, Fitness, Barbodys Inst. in S.RI
Beginners thru advanced dance together from everywhere.
BELLY DANCE ARTS - students learn everything about Belly Dance & perform in shows.
BELLY DANCE FITNESS - combo of dance & fitness
BARBODYS- streamlined dancepilates,weights, push ups, legs lifts, stretch ,yoga.
BELLY DANCE for ADULT BALLET DANCERS - A fusing of dance forms
AVAILABLE - Private lessons,class packages, senior projects, lecture demonstrations for studios,school, fundraisers.
BARB"S BLOG http://thedancingspirit-barbara.blogspot.com/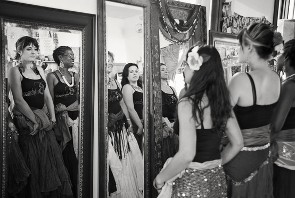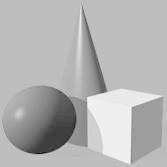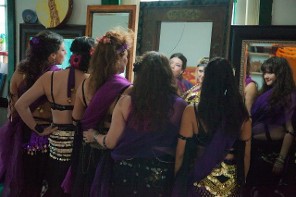 Culture through dance birthday parties and girlscouts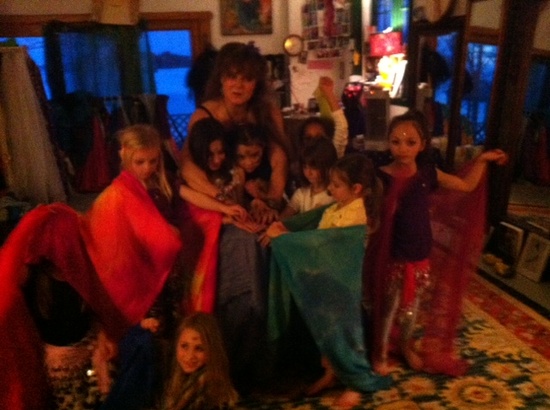 Community Belly Dance Birthday party - All girls learn Tuta.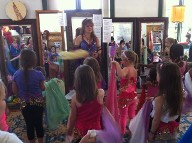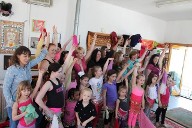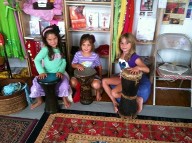 Birthday performance for the party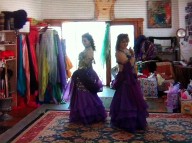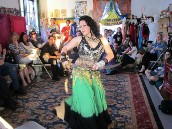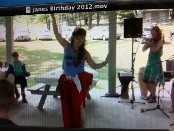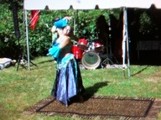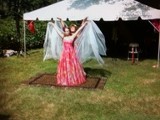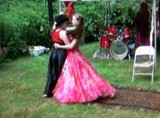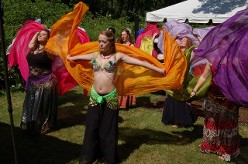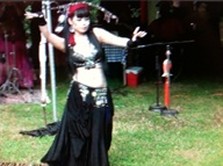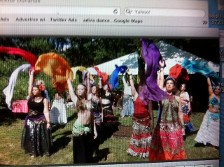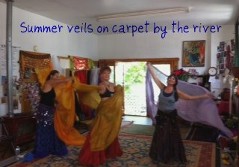 "Belly Dance Observed" https://www.facebook.com/notes/barbara-derecktor-donahue/belly-dance-observed/10151019947789284
Is Belly Dance a Work out ?....... READ HERE http://www.hipmix.net/fitness-article.php?pid=52
Dancing Spirit Erica's DANCE BLOG....thoughts, dancing spirit quotes & more..........http://live-gwe.com/dance-of-the-fae/
Dancing Spirit Princess Birthdays . Ages 5 - 18 http://pinterest.com/badawiya/dancing-princess-birthday-parties/
REVIEWS
Mel "Barbara exudes excitement and passion for Belly Dance. You can't help but become entranced & engaged in a Dancing Spirit Studio class! She incorporates many forms of dance into her classes & is excellent at describing the movements so that you remember how to do them with proper form. This summer I was introduced to Turkish, Egyptian, Gypsy, Flamenco & even Tribal Fusion . There is SO much more to belly dancing than I thought! I am the daughter of two dance instructors ( I grew up in a dance studio until 4th grade) but I don't consider myself a 'natural' dancer... I have trouble with my 'right & left' ,have to work hard to remember choreography! Barbara never makes me feel badly. There are students of all ages and body types in classes. Join a class and let the movement and music enrich your life Thanks Barb!! xoxo
PAM " I started taking summer Bellydance classes with Barbara about a month ago. I came to her, after years of tucking her studios number into my "someday" pile, via a Groupon offer for 10 classes. It was the best decision I made for myself in a long time! Barb teaches her classes like I imagine she'd teach her best girlfriends. She's fun and spontaneous, but cares about her craft and pushes you until you succeed. You'll discover that bellydance is challenging, but in the same wonderful way that yoga is challenging. You will feel sexier, taller, more present and learn something fun and interesting. Highly recommended! Highly...I think I've told every woman I know!

Martha ," I signed up again for Belly Dance fitness . I am so glad I walked through Barb's door. I joined with a group of "newbies", women of all ages, shapes, sizes and rhythms. For 2 hours we stretch, work muscles some of us never thought we had or that we lost. We have learned belly dance techniques that are fun and low impact. I am not going to a gym ,feeling self conscious about feeling silly on a piece of equipment that I don't know how to use. In Belly Dance classes I am my own piece of equipment that I am learning to sculpt & maneuver in my own way. If you are dying to do something fun, different, healthy ....it is time to think outside the box.Try Belly Dance Fitness. "

Norma , " Belly Dance fitness is an 1 1/2 hr intense isometric, non-impact exercise for all ages in a non-judgmental, fun, relaxed atmosphere and you can create your own original dance.Don't know your right from left? Belly Dance is for everyone. Learn to dance the way women have danced for centuries. According to Barb, "If you can walk you can dance". Give it a try. You will be pleasantly surprised at how much you can do.
Jane " There are myriad majestic, mysterious, and magical things going on with belly dance. Barb's class is a combination of fun, fitness, and fantasy. Everyone feels like femme fatales in wonderful scarves and veils. There is cultural education, enlightment and entertainment. ! Barb has a great sense of humor, disciplined instruction and is a real encourager. You should come!
Mindy " The Dancing Spirit is a place you can go to be transformed spiritually emotionally and physically. You learn the wonders of your own body and use muscles you didnt even know you had! Go on a spiritual journey with Barb and you will never be the same !
Kara - This dance class is an experience in realizing who you are and who you want to become. Barbara is a very unique and enthusiastic teacher who has a true love for the dance. The wonderful thing about this dance is that there is no prior experience needed. Everyone can join in.No matter what you look like or how old you are you can still learn something new and have fun in the process. I just started a few weeks ago but already I am seriously addicted to the dance, music, and spirit that goes along with it. This dance is so beautiful and not enough people know about it. I would recommend this studio to everyone
Ursula-Every class is a blast! Barbara is an excellent teacher, these classes can really make you feel like a princess, it's like an island for myself, where I feel beautiful ,wonderful, great. Ladies MUST try this class, one time and you will love it!! It is for all sizes, shapes and ages, for the princesses in all of us!
Teen Tiger Lily ,Karen - When I first walked into the studio I was welcomed by the faint sent of incense, vibrant colored costumes, and Barb's fun free spirity.I soon felt right at home and accepted. Barbra is a very genuine person who loves to share her knowledge and passion with the people around her. She understands that art, dance can be taught but is also felt and embodied by a person. In a short time in classes I have learned about individuality, expression, confidence, femininity, elegance as much as I have about belly dance. The dance is fun physical exercise & connects mind, body, and emotion.Belly dance teaches you much more than shimmies and hip circles. It is a truly beautiful art form that many people have not had the chance to appreciate.
Sept 2011 - 2012 Season RECAP
1) 1st yr long, 2 x a wk Teen Tiger Lily 2) Four Corners Arts Show 2011 - Veil Parade,Goddess Delight, Mel ( Boston), Anam Cara,10 Dancing Spirit Skirts 3) SEPT, SOAH,Coastal Roasters, OCT - Classes, Dartmouth,Martial Arts Studio 4) Nov. Meeting House show -Secial guests Alessandra Belloni(Italy), Allison Messier, Opera,Derek Escher,Red Eye Flight, Remy Escher, Bella Donna on drum,Kara- Opera, Judy, Sayo, Neylan, Samara, Anam Cara, Goddess Delight ,Tempest, Tiger Lilys,10 Dancing Spirit Coats & Veils 5) Feb - Heart Show with Opera & many fusion Belly Dancers 6) March - Mask Show with many fusion Belly Dancers, Sayos sword quartet 7) May - World Shimmy Mob #2, Gea - 9, 1st solo 8) May - Tiger Lily Show,Their Duets, Solos, Erica's 1st solo, Gea's 1st solo 9) Angelinas Senior Project 10) Angels Graduation Belly Dance party 11) Karens 1st restaurant party show debut 12) Angel, my 1st teaching assistant 13) Chair decorating,chair dances 14) First summer session offering Belly Dance Fitness and Belly Dance arts which lead to Four Corners 2012 - Opening Dance Tuta, Drum Solo-12 Dancing Spirits ages 18 - 70, Anam Cara, Sayo, Kali, Ursula,Belly Donna, Ameena,Janell, Judy, Tiger Lilys, " True Love duet with Barb & Angel" 15) SOAH 2012, 7 Bodacoius Gypsy Skirts on Evelyns 9 x 12 stage, Barb's Egyptian Style solo & Sayo's Sword tribal Fusion 16) Gypsy Flamenco workshop with wonderful Dalylah 17) 1st Doulble class with Barb and Sayo teaching 17) Amazing workshop with Dynamic Duo Morwenna and Walid from California teaching Dance and Drum 18) First Senior Project with Carley for Ballet ot Belly Dance. 19) Dec 29 Studio Hafla
Senior Project Carley 2012 - 2013 = Ballet ,Belly Dance, Artist, Musician